'My Right to Fly'- A Photo Exhibition on the International Day of the Girl Child
A 3- day photo exhibition 'My Right to Fly' begins in Cox's Bazar Cultural Center marking the International Day of the Girl Child 2022.
The exhibition is jointly organized by international development organization Save the Children and Cox's Bazar Art Club to present the dreams and realities of the girls living in Rohingya refugee camps and local communities in Cox's Bazar district. It was inaugurated today by Additional Refugee, Relief and Repatriation Commissioner of Cox's Bazar, Mohammad Khalid Hossain. The inauguration was followed by a panel discussion moderated by Reefat Bin Sattar, Director of Program Development and Quality, Save the Children in Bangladesh. Dr. Shamim Jahan, Deputy Country Director of Save the Children in Bangladesh delivered the welcome speech.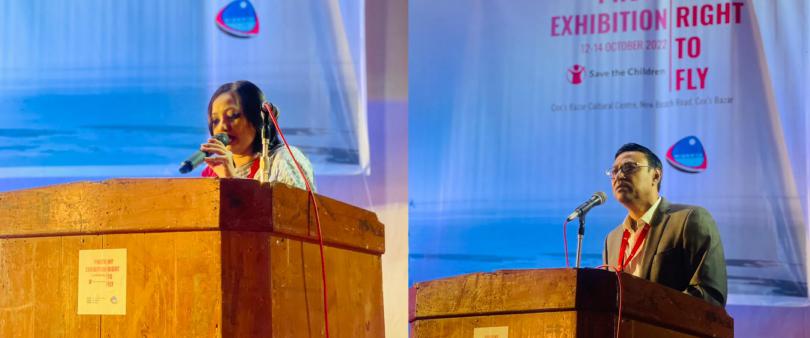 Mohammad Khalid Hossain said, "The country has progressed a lot now. In some places where girl children are suffering from societal discrimination, it is possible to get rid of this problem if everyone comes forward with collective effort."
Girls from the local community of Cox's Bazar spoke about their rights and expectations in the program. A girl child from the Rohingya community also shared her dream through a video message.
Additional Deputy Commissioner- Development and Human Resource Management, Cox's Bazar Mohammad Nasim Ahmed said, "The environment of Cox's Bazar is very nice and safe. The girls here are flying safely and will continue to fly. Also, anyone can inform the administration about the irregular incidents that happen at any time. And that's why every police station has a girl child desk and hotline number."
Deputy Director of Social Services Directorate, Hasan Masud, Additional Superintendent of Police of Cox's Bazar Sadar Circle, Md. Mizanur Rahman, President of Cox's Bazar Press Club, Mr. Abu Taher were also present at the opening ceremony. Nusrat Amin, Head of Media and Communications of Save the Children in Bangladesh gave the vote of thanks in the event. After the inauguration, the invited guests visited the exhibition.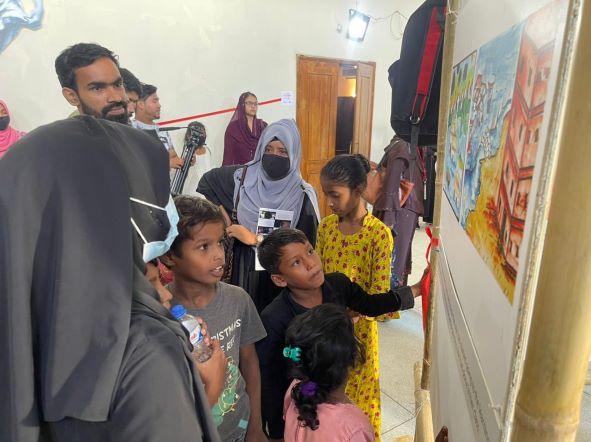 The photo exhibition will be open for all on 12-14 October from 10 am-5pm. In addition to the exhibition, there is open stage and painting arrangements for children at the venue.
Save the Children has been working in Bangladesh for the past 51 years and in Cox's Bazar since 2012. The international organization is conducting various projects to ensure the protection of the children in the Rohingya camps and the children in the host community of this district. In addition to the development work in Ukhia and Teknaf, Save the Children has several ongoing development projects in St. Martin's, Ramu and Qutubdia also.